Correct
Advanced Skincare to Improve Specific Skin Concerns
SkinCeuticals CORRECT products combine anti-aging, clarifying, moisturizing, and exfoliating ingredients to address a wide array of skin concerns including the appearance of wrinkles, discoloration, blemishes, and more. When used regularly, these targeted products help restore a healthier and more youthful appearance.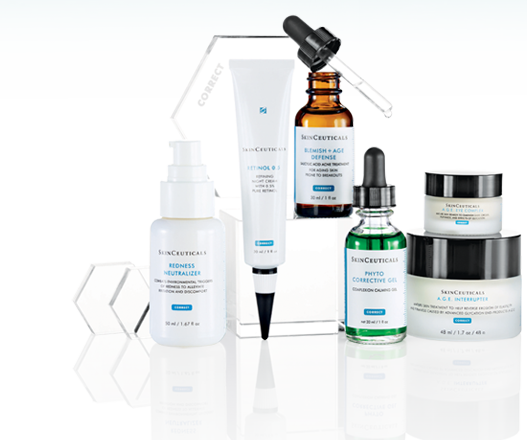 Tri-functional corrective treament addresses early to advanced signs of visible neck aging by reducing the appearance of horizontal neck lines and neck skin crepiness.

A multi-functional corrective serum to help amplify skin's hyaluronic acid levels

Intensive calming botanical face mask to rehydrate and soothe temporarily reactive skin

A patented anti-aging cream to refill cellular lipids and nourish dry skin. U.S. Patent No. 10,137,073.

Restorative mask to help soothe skin (6-piece).

This oil-free serum simultaneously exfoliates skin and replenishes moisture for radiant, smooth skin.

Purifying treatment to decongest pores and remove excess oil.

An oil-free face serum that reduces the formation of adult acne, and improves visible signs of aging.

High-concentration anti-wrinkle cream formulated to improve the visible signs of aging caused by advanced glycation end-products (A.G.E.).

An anti-wrinkle eye cream to fight the appearance of crow's feet, dark circles, and puffiness.

Daily dark spot corrector targets visible skin discoloration for brighter, more even-looking skin

A high-concentration pure retinol cream for experienced retinol users to improve the appearance of visible signs of aging and pores while minimizing breakouts.