FACIAL CLEANSER
High-Concentration, Problem-Solution Cleansers For All Skin Types And Concerns
The SkinCeuticals facial cleanser range is formulated and tested to effectively remove dirt, makeup, dead skin cells, and excess oil without stripping the skin. Combining high-concentration, solution-driven ingredients with advanced surfactant technologies, these powerful facial cleansers address specific skin concerns such as blemishes, excess oil, or dryness, while priming skin for at-home cosmeceutical regimens and in-office procedures.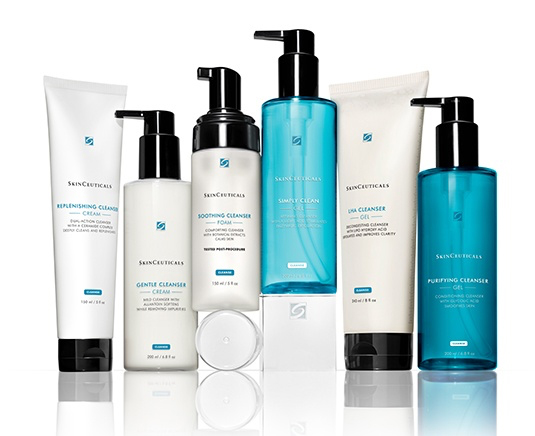 Dual-action chemical and mechanical exfoliating cream effectively purifies while removing surface dead skin cells to refine texture, brighten skin, and clear acne blemishes.

Calming, soap free cleansing foam with a high-concentration blend of botanical extracts to dissolve impurities while soothing compromised skin.

Dual-action face wash for combination skin with a ceramide complex deeply cleanses and locks in hydration to leave skin feeling replenished.

Smoothing exfoliating scrub with hydrated silica effectively cleanses pores and exfoliates to hydrate, soften, and improve skin texture.

Pore-refining gel cleanses, exfoliates, and soothes normal, combination, or oily skin.

Exfoliating gel cleanser decongests pores, smoothes skin texture, and brightens skin.

Mild cream cleanser removes impurities and excess oil, while soothing and calming dry or sensitive skin.

Conditioning cleansing gel with glycolic acid helps smooth skin texture while gently foaming to refresh skin and remove impurities.