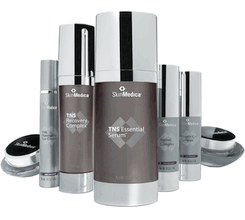 SkinMedica is world-renown for its scientifically advanced skin care, ranging from antioxidant recovery complexes to retinol to TNS, a patented compound of growth factors and pharmaceutical-grade collagen.
Founded more than a decade ago by dermatologist Dr. Richard Fitzpatrick, SkinMedica offers a complete line of extremely high-quality skin care products that utilize proven skin rejuvenators such as vitamins E and C, retinol, tea tree oil and salicylic acid. Achieve healthier, more youthful skin with the help of SkinMedica's superior formulations.

Ultra-rich moisturizer helps prevent moisture loss and improves skin smoothness to restore your skin's natural beauty.

Provides immediate smoothing in the appearance of fine lines and wrinkles, and supports the skin's natural ability to replenish its own hyaluronic acid (HA) for overall skin health.

Hydrates as well as refreshes, soothes and nourishes sensitive skin.

Softens and minimizes the appearance of red or pink scars.